More Chess Openings: Traps and Zaps 2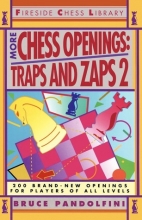 The opening is one of the most important parts of the chess game.  Weaken your pawns by mistake, and they're taken.  Attack wildly and haphazardly, and your pieces are picked off. Misuse your queen, and it's trapped. Carelessly neglect development, and you're mated. You've scarcely begun, and the game is over. Fortunately, National Master Bruce Pandolfini's More Chess Openings: Traps and Zaps 2 offers drills and skills to help players of all levels avoid these perils and pitfalls.
Including over 200 traps and zaps, More Chess Openings presents everyday errors in openings and their immediate refutations. With detailed instruction and his usual precise explanation, Pandolfini teaches the defences necessary to ward off the toughest opponents, including the Sicilian Defence, Caro-Kann Defence, French Defence and more.