Adult Chess Lessons

Sydney Academy of Chess offers Chess lessons for adults of all skill levels. Boasting an array of accomplished Chess coaches and master players, it is easy for us to find a trainer suitable to your playing level and personal goals. We offer lessons at our headquarters, online, and are even able to have our coaches travel to you!

Ready to start? Book your first session HERE or read on to see some of the most frequently asked questions by new students.



Is it too late to become a Chess Master?


This is a very common question and the answer is a resounding no! It is not too late, a belief echoed by great players such as Magnus Carlsen, who believes that late starters can still become very strong Chess Masters. While you may hear stories about twelve year old Chess Master prodigies, the truth is that most Masters don't begin studying Chess until they are significantly older. What's more, Chess is something you can continue to learn and improve at for a very long time.

Pictured below is Viktor Korchnoi, who at the age of 80 beat the third highest rated player of all time Fabiano Caruana, a player who achieved a peak rating 2844!! You have plenty of time left to learn and improve. There are many rabbit holes you can fall into when first studying Chess, and getting started down the right path is one of the many advantages of hiring an experienced trainer.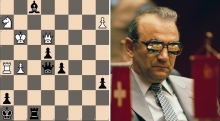 Viktor Korchnoi, aged 80, beats Fabiano Caruana!!
Photo credit to J. Cooke, Corbis.
There's an old proverb that advises "The best time to plant a tree was 20 years ago. The second best time is now."



Why should I learn Chess?
Chess is estimated to be at least 1500 years old, and is currently being played by approximately 605 million people. Unlike many games, Chess isn't going anywhere and is a skill you will still be able to apply many, many years from now. Not only is Chess a challenging, fun, and highly regarded skill, but it also holds a huge number of benefits such as improving focus and memory to a phenomenal extent. Experienced players are able to play full games against one another, without a board, simply by remembering where all the pieces are! In fact, Grandmaster Timur Gareyev, pictured below, holds a record of simultaneously playing 48 people without looking at or touching any of the boards and still scoring 80%!!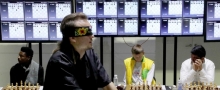 Timur Gareyev playing 48 people at the same time, blindfolded, winning 35 games, drawing 7, and losing only 6!!
Photo credit to Sergey Savostyanov.
While 48 blindfold games at once is beyond the reach of most of us, learning and practicing Chess will build your memory and focus to a point where playing a couple of blindfold games is certainly attainable. These attributes naturally bring great benefits in other pursuits of life, as well as having numerous health benefits.



What will I learn in my Chess lessons?

Beyond learning the fundamentals, each player's learning path varies greatly. Sydney Academy's experienced trainers tailor their private sessions to the specific strengths, weaknesses, and playing style of the student.
This is perhaps the greatest value of having a dedicated trainer. While there are many resources available for learning Chess, they often cover topics not appropriate to the specific ability or playing style of the student. Sydney Academy's adult training sessions are the most sure fire way to quickly guide you down the correct path toward Chess mastery.

For such a cerebral game, the decision to start sure is a no-brainer!
For more information, please call our office - Sydney Academy of Chess on (02) 9745 1170.
If you are interesting in arranging private coaching, please click on the button: PRIVATE COACHING