Grand Kingdom Chess Set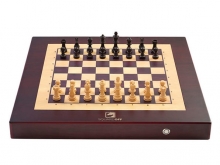 Beautiful Handcrafted Wooden Chess Computer Set. Board has a Rosewood Finish and Pieces are Made of Boxwood and Rosewood. Watch the Pieces Move by Themselves with Integrated Automated Movements, Advanced Robotics and AI. Comes with Auto Reset and Live Stream Option where you can watch your favourite Grandmaster play live, right on your own Board! Connect your Board with the Square off App and Analyze your games! Connect Globally and Play Against Players All over the World on Chess.com! 
Only Available for Pick up at Sydney Academy of Chess For Australian and New Zealand Customers.