Workbook 1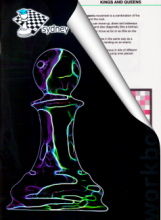 A couple of years ago, WIM Laura Moylan, FIDE Master Brett Tindall and a group of other Sydney Academy Of Chess coaches got together to explore methods to improve our coaching. A few ideas were sketched out and one of them, on top of the list, was to produce a workbook which would help kids to learn chess a little bit quicker.
Hundreds of hours later, the first Sydney Academy of Chess Workbook was released. And it was very successful (and still is!), mainly due to:
The book is filled with coloured diagrams, arrows, highlighted squares.
Simple, direct language.
100 pages.
The lessons have to do with the topics covered during our live lessons at schools.
The book combines both explanations and puzzles to confirm that the student has actually understood the topic.
The pricing is very reasonable: $22 per workbook, or $35 for both.